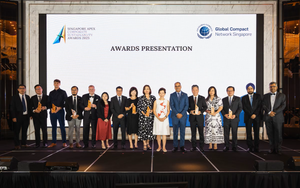 Matex picks up its second Sustainable Solutions Winner at the 8th Singapore Apex Corporate Sustainability Award 2023 organised by United Nations Global Compact Network Singapore
The Singapore Apex Corporate Sustainability Awards are one of the most prestigious awards in Singapore for corporate sustainability and recognize companies whose business operations or solutions have exemplified the Ten Principles of the United Nations Global Compact, on environment, human rights, labor, and anti-corruption. The annual award spotlights companies that have taken decisive steps to advance the SDGs and aims to inspire more organizations to share the responsibility of achieving a more sustainable future. The award in the Sustainable Solutions category specifically recognizes businesses that outperform in products or services meeting the sustainability needs of other businesses, the environment and society.
Matex is very much humbled and honoured to be announced again the Category Winner of the "Sustainable Solutions" at the 8th Singapore Apex Corporate Sustainability Awards 2023 for Mebyo® redefining a strategy to live better, healthier and more meaningfully with our probiotics solutions.
Further to winning the same award in 2019 for its Megapro® solutions, a salt free dyeing process for cellulosics to help reduce water pollution and a finalist in 2013 for its Megafix® range of sustainable dyes that has become the industry standard. Matex showed it is once again committed and determined to continue its journey as a material science company to empower the lives of trillions with its innovations and to make a positive difference for a better world together!
Hosted by the UN Global Compact Network Singapore (GCNS), the Awards Gala Dinner on 03 November 2023 is a cornerstone in recognising sustainability excellence! The evening's fireside chat, Forward Faster Corporate Sustainability: A Conversation with Minister Grace Fu, Minister for Sustainability and the Environment, Republic of Singapore clearly accentuated the need to move faster in a decade of action!
Video Highlight
Meet the Winners of the Singapore Apex Corporate Sustainability Awards 2023
Matex Singapore
Follow Matex @ Facebook
Follow Matex @ Linkedin
Visit Matex Website @ Matex
---