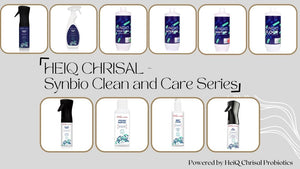 HEIQ Chrisal Launches Synbio Clean & Care Series
HeiQ launches new range of clean & care products, containing probiotics (good bacteria), and are enriched with prebiotics (sugars that feed these bacteria).
The HeiQ Synbio Cleaning Spray for hard surfaces and HeiQ Synbio Allergen Spray for textiles, These products are the first on the market to use this patented technology to clean well and restore a balanced microbiome in people's home. Cleaning effect can last for days after applying the products.
HeiQ Synbio Care Series are effective in breaking down stains and allergy causing proteins to clean even the smallest crevices and fine grooves while actively preventing odors. Probiotic products are particularly helpful for people with allergies to dust mite matter, animal hair or pollen. Studies have shown that probiotic products managed to reduce dust mite allergens by 60% and pollen allergens by almost 90%.
Cleaning with probiotics balances the microbiome with the natural "good" bacteria that we need. Probiotic cleaners have been used for ten years in hospitals and clinical studies with not reported safety concerns, while contributing to decrease infection rates. Today there are more than 40 hospitals in Europe clean with probiotic products.
Probiotics are recognized by the EC Ecolabel as valid eco-friendly technology. HeiQ Chrisal's SYNBIO cleaning products have been granted the EU Ecolabel. Probiotics are derived from natural source material, are not genetically modified (non-GMO), are not considered pathogenic, are readily biodegradable, and their degradation products are considered safe for flora and fauna.
Matex, partner of HeiQ helps to launch this series of Synbio Care and Clean Series to the Asia Market, please visit us @ Matex E-Shop for more details.
For more information, check out these links: 
https://ch.heiq.com/collections/heiq-synbio-clean
https://www.chrisal.com/synbio.html#/
---