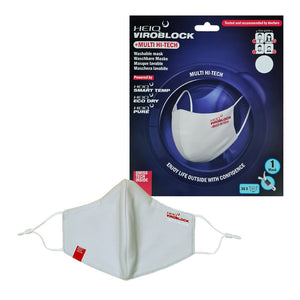 Covid-Antiviral & Antibacterial Protection
Tested effective against Coronavirus
HeiQ has launched heiQ Viroblock NPJ03, an antiviral and antibacterial textile treatment - a unique combination of silver and vesicle technologies designed to significantly reduce viral and bacterial infectivity on treated surfaces.
Very comfortable fit for daily use
Water Repellent & Anti-microbial effect: Last up to Washable 30 times at 40°C (104°F).
Environment friendly – approx. 60x less waste than with disposable masks
Inner and outer layer with 100% Ultra Soft Polyester
Double layer filter tested according to EN 14683 IIR
4 sizes available (Extra Small/ Small/ Medium/ Large)
Covering the mouth, nose and lower part of the jaw, providing physical barrier to prevent direct penetration of solids and non-oily liquids
For more information on the various HeiQ technologies, check out these videos:
Smart Temp explanation with FLIR image.
---